The Story of the Sinking Splash Mountain Boat
On Sunday, a Twitter video went viral. This video showed a Magic Kingdom's Splash Mountain boat sinking after the 52.5 feet drop. According to USA Today,
"Five people were aboard when the incident happened at the end of the ride, according to the company, and all got out safely."
so we got out of our boat because it was sinking while we were stuck there and the disney world employee decided to tell us that we should've stayed in the boat but it went under as soon as we all stepped out… nice #DisneyWorld #splashmountain #MagicKingdom #disney not okay???? pic.twitter.com/15zMnP1wgX

— sky💫 (@skyelaringrsoll) August 3, 2020
The Twitter user who posted the video's name is Skyelar Ingersoll. She had an interview with Insider and said,
""Then we got stuck again for longer towards the end of the ride, and a lot of water started rushing in,"… As the vehicle started to tip backwards, Ingersoll said she and others on the ride decided to exit. Around that time, they also heard a "powering off" announcement over the ride's intercom"
Before and after (my boyfriend and I were in the back seats) pic.twitter.com/IqJUsIIoZE

— Karen Ramirez (@Kai_cece98) August 3, 2020
The riders onboard at the time were told to stay inside the sinking vehicle. They do not follow because as you can see in the tweets above, it is sinking. The ride opened back up later that day. It is unclear on what made the Splash Mountain boats sink.
People going to Disney World during a pandemic and sinking at splash mountain is too much metaphor for 2020.

— Gary Wax (@gary_wax) August 4, 2020
In Other Splash Mountain News
The Magic Kingdom opened back up on July 11th with the original Splash Mountain still operating. Imagineers are hard at work to reimagine Splash Mountain to be themed around Princess and the Frog. No word has been said on when construction will happen.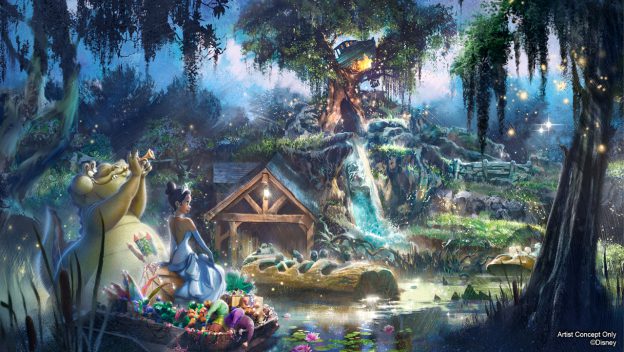 A Terrible and yet Wonderful Parallel
This event parallels another sinking boat that happened pre-quarantine. Back in February, a Jungle Cruise boat in the Magic Kingdom started to sink.
Not gonna lie. If I was on a jungle cruise boat that was sinking, I'd probably be thinking it was awesome…

(If these are your images, let me know, I'll be happy to give you credit) pic.twitter.com/SPKevGLRC3

— Wesley Snyder (@365DaysOfDisney) February 27, 2020
Ah February, what a time. To see more pictures of the sinking Jungle Cruise ship, see this article. While many fans joked about the Jungle Cruise boat sinking to be a promotion for the new movie, Splash Mountain's boat sinking has nothing to joke about. The sinking just makes fans more eager for the new version to come.
Thanks for visiting DisneyBuzz.com! Want to go to Disney? For a FREE quote on your next Disney vacation, please fill out the form below, and one of the agents from our friends over at MickeyTravels, a Platinum level Authorized Disney Vacation Planner, will be in touch soon!