2020 Walt Disney World Tickets, Hotel Reservations Resume
Starting today, you can once again purchase Walt Disney World theme park tickets and make Disney Resort hotel reservations. Disney Parks Blog announced that ticket sales would resume Thursday, July 9 for 2020 Walt Disney World vacations. This includes theme park tickets and hotel (resort) reservations. 
Buy Tickets Starting Today
Already have a Walt Disney World resort reservation but no tickets? You can buy them today. Want to go to Walt Disney World this year but need to make hotel and ticket purchases? You can finally make your plans starting today. 

As soon as you purchase your tickets and make your hotel reservation (or as soon as you ask your MickeyTravels agent to do it for you!), you need to make your Disney Park Pass reservations. 
But be warned – Disney has said they could be releasing tickets and resort reservations at different times today. And they will put people into virtual waiting rooms to allow the system to work more efficiently. So be prepared for some waiting – or better yet, have your MickeyTravels agent do the waiting for you!
Disney Park Pass System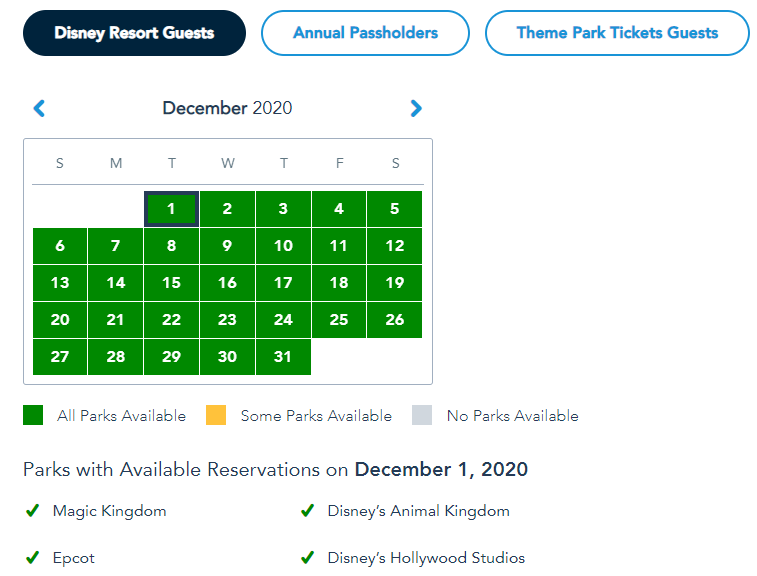 Have you heard about the Disney Park Pass System? You're probably well aware that to keep park attendance at limits that will allow for social distancing needs, Walt Disney World has installed the Disney Park Pass System. Once you have tickets purchased, you need to make a reservation for the parks you want to visit on your trip. And right now you can only visit one park per day – no park hopping. 
While you're making your plans, check the park availability to make sure there are reservations available for the days you'd like to visit. They have a green, yellow, red system showing you availability. I've gone ahead and checked, and as of press time we're green through the end of the year, save for the first week of reopening in July. 
Know Before You Go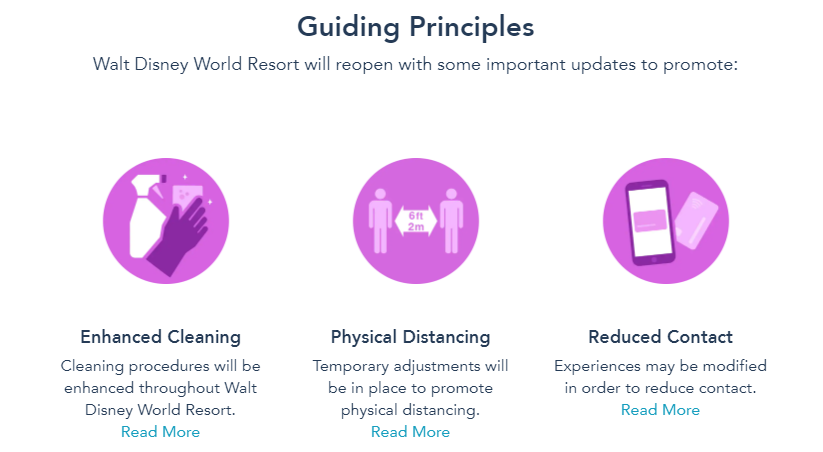 Disney takes the health and well-being of guests and cast members extremely seriously. So they've instituted safety measures you'll have to follow, including mandatory face coverings, temperature screenings and enhanced sanitation. Wondering about what to expect? Check out advice and updates from Walt Disney World so you're informed before you go to the resort. 

It's All Happening
Walt Disney World begins the reopening of the parks on Saturday. We can't wait to be there! Our friends from our sister site, MickeyBlog, will be live-streaming from today's preview for annual passholders – be sure to follow along! 
Find articles like this helpful? Then why not consider working with an Authorized Disney Vacation Planner? As an agent with MickeyTravels, I'll be on hand to assist you with everything from finding your perfect package to helping you plan lots of special touches to make your visit truly magical. Best of all my services are absolutely FREE. Get in touch at 732.754.4553, via email at jbannon@mickeytravels.com or follow me on Facebook, Instagram or Twitter. Fill out our form below for your FREE no-obligation quote from MickeyTravels!