Stock Analyst: Things Can't be Good at Disney if Bob Iger is Back in Charge
My 4.5 shares are shaking. But not because DIS is down $2.45 here in the late stages of Monday!
No, it's not the stock price that is bothersome (necessarily); it's that not everyone thinks Bob Iger's return bodes well for Disney. I figured it'd be unanimous outside of the Chapek household?
Case in point, Stephen Guilfoyle of Real Money:
It Doesn't Sound Good for Disney That Bob Iger Felt Compelled to Step in
As most of you know, I am long some shares of Disney. I wonder myself. Am I elated as a shareholder that Bob Iger has resumed more control over the company? He's been great for my portfolio in the past. Or… is this so bad, that Bob Iger felt compelled to step in? Who among us can say for sure that it's not the latter. It doesn't sound good.
For those not messing around with options, my thought is that maybe one cuts back on exposure if the share fail to hold par ($100). There is just too much risk for a large firm with no profitable businesses. Even if it's not their fault at all. Long live the mouse.
Yeesh.
Headline After Headline
And the last hour's "Disney" headlines on Google are, frankly, "Night on Bald Mountain" scary.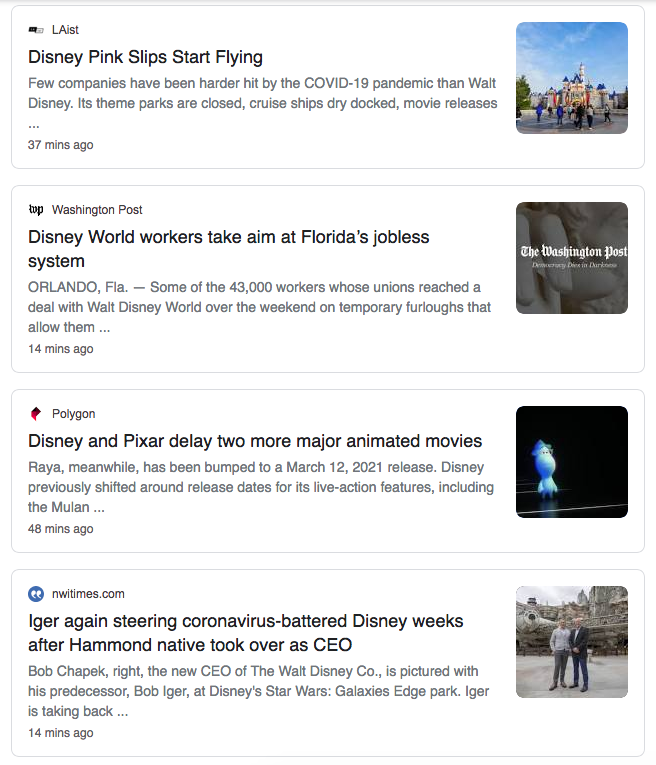 However, where some see trouble, others see opportunity.
Seeking Alpha, another stock market site, posted:
Why Disney Is Undervalued
The market is not taking into account the full potential value of Disney+.
The over 50 million Disney+ subscribers is a game-changer for the company.
High retention rate will lead to a dramatic increase in the growth of Disney+ subscribers.
…I view Disney as a great opportunity to purchase a business with strong assets and a fast-growing streaming business at an undervalued price. I currently have a long position in Disney with an average price of $87. I view pullbacks as an opportunity to buy and will look to add to my position.
Who Is Right?
So, what's a Wall Street mogul such as myself to do?
I'm going to listen to Mark Cuban:

However, I am only bargaining with my 4.5 shares.
Here's hoping that Disney — and Bob Iger — don't "do nothing" as castmembers, stockholders, and guests alike hope for The Walt Disney Company's health when the crisis abates.
Thanks for visiting DisneyBuzz.com! Want to go to Disney? For a FREE quote on your next Disney vacation, please fill out the form below and one of the agents from our friends over at MickeyTravels, a Platinum level Authorized Disney Vacation Planner, will be in touch soon!