Disney Stock Down: Two Analysts Downgrade The Mouse
Disney stock took a hit early on Monday as two important analysts announced downgrades.
Early this AM, The Hollywood Reporter posted:


Credit Suisse analyst Douglas Mitchelson cut his stock rating from "outperform" to "neutral" and his price target from $140 to $116, arguing that the downside risk for the Hollywood conglomerate's theme parks business amid the novel coronavirus pandemic outweighs the upside of its streaming business, including Disney+.
"Disney's 24 percent rally the past month was well deserved as liquidity concerns appeared overblown, and we continue to see a path to about $160 per share for Disney the next few years — streaming value creation should easily outstrip linear TV declines, and we expect a full rebound in theme park and Hollywood operations over time," he wrote in his report…
UBS analyst John Hodulik, meanwhile, downgraded his rating on Disney shares from "buy" to "neutral," arguing in his report "The Eye of the Storm" that the pandemic was hitting every Disney division, especially the theme parks units that is a core part of its business. He lowered his Disney stock price target from $162 to $114.
"The COVID-19 outbreak and subsequent lockdown have closed theme parks, the box office, sports leagues and retail stores and as result is impacting every major segment at the company," Hodulik wrote. He had previously said that theme parks would be affected longer-term by the virus crisis, writing: "The post-lockdown world could see dramatically lower attendance for a prolonged period of time…"
As of 10:10 AM on Monday, shares of The Walt Disney Company had dropped to $102.60 (and falling) from a previous close of $106.75.
Meanwhile, a financial blog — Seeking Alpha — posted that Disney's furloughs would save $500 million a month.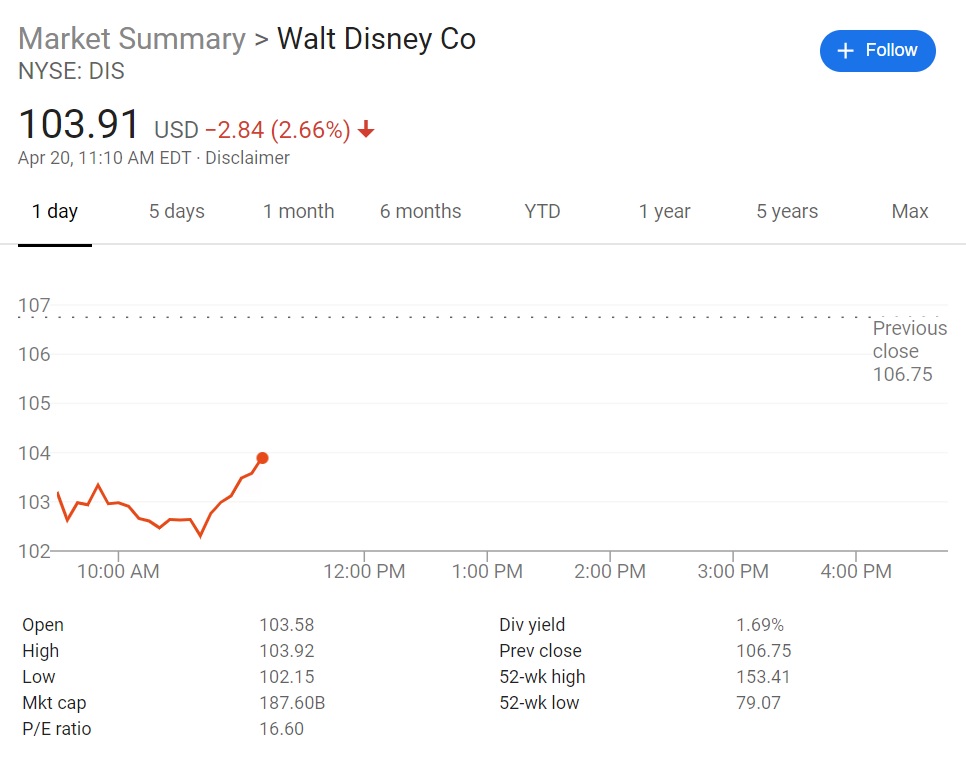 However, The Walt Disney Company's decision would "leave staff reliant on state benefits (though healthcare benefits will still be given in full), even as the company protects executive bonuses and a $1.5B dividend payment due in July."
We'll keep watching Disney's position throughout the day.
Thanks for visiting DisneyBuzz.com! Want to go to Disney? For a FREE quote on your next Disney vacation, please fill out the form below, and one of the agents from our friends over at MickeyTravels, a Platinum level Authorized Disney Vacation Planner, will be in touch soon!