Don't Mess With The Mouse: Disney Wins Lawsuit
Writing about the movie "Walt Before Mickey" Paulette Cohn explained: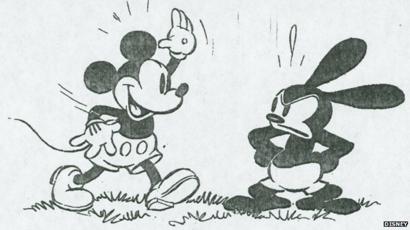 Mickey wasn't the first cartoon character that Disney created by any means. Another famous one is Oswald Rabbit, but Walt didn't own the copyright to that and he had to let Oswald go. Owning your work was one of the many lessons he learned on the bumpy road to success. By the time Walt created Mickey, he was on his fourth animation company and it is the one that stuck: Walt Disney Studios.
And to this day, Disney takes copyright law very, very seriously.
Case in point, back in December, Disney sued a Florida business for infringement.
Sanika Dange of WESH 2 reported:
The lawsuit involves Mouseprint Media LLC, also known as DisGear.
The 22-page lawsuit filed by Disney Enterprises and Lucasfilm Entertainment contends that Mouseprint Media is selling merchandise copying Disney logos, designs, and products… 
The suit also cites multiple products on the company's website and compares it to Disney-affiliated merchandise, such as a pirate Mickey Mouse, Darth Vader of Star Wars, Tinkerbell, and Goofy.
This week, Disney won the lawsuit, with the Orlando Sentinel reporting:
Disney and Lucasfilm sue DisGear, an online store that sells T-shirts and other merch, over copyright infringement @orlandosentinel https://t.co/BC3Elg8xCj pic.twitter.com/57uqlLzaZE

— Gabrielle Russon (@GabrielleRusson) December 10, 2019
The March 24 court order signed by U.S. District Judge Roy B. Dalton Jr. did not mention any dollar settlements but outlined several steps that Mouseprint Media agreed to in order to essentially shut down its business, including relinquishing merchandise and its website to Disney's control. The store agreed to permanently stop selling and distributing its merchandise.
The Mouse frequently flexes its legal muscles. Earlier this year, Disney issued takedown notices for bootleg "Baby Yoda" merchandise.
Thanks for visiting MarvelBlog.com! Want to go to Disney? For a FREE quote on your next Disney vacation, please fill out the form below and one of the agents from MickeyTravels, a Platinum level Authorized Disney Vacation Planner, will be in touch soon!